2016 Buick Verano Introduction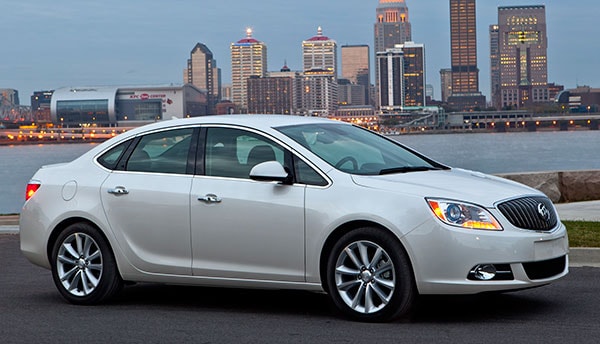 The Buick Verano is a compact sedan positioned below the midsize Regal, with a starting price substantially lower.
A new Verano Sport Touring edition joins the lineup for the 2016 model year, with special 18-inch black-pocket wheels and a rear lip spoiler. Otherwise, little has changed for 2016, other than a switch from a six-way to an eight-way power driver's seat. Verano was introduced for the 2012 model year.
The Verano emphasizes comfort and quietness over power and we found it well-composed underway and pleasantly hushed beyond its class. Connectivity possibilities and safety score well. Fuel economy is not a strong point, however.
Designers took existing GM architecture, originated for the Chevrolet Cruze, and transformed it into a distinctive sedan for a new premium segment. If the sporty nature of an Audi A3 or Mercedes-Benz CLA isn't to your liking, the Buick Verano presents an appealing alternative. Overall level of refinement ranks among the best in its segment.
A few hints of Buick heritage can be discerned in the Verano's grille and interior, helping to sublimate its small-car proportions. Almost all styling cues are tasteful and subdued, except for Ventiports (the simulated portholes found on Buicks dating back for decades). Because Buick is a premium brand, even its entry-level model deserves a richly finished interior, highlighted by softly lit gauges.
Two engines are available, with a 6-speed automatic transmission.
The standard 2.4-liter four-cylinder engine is rated at 180 horsepower. Acceleration performance from 0 to 60 mph takes about 8.6 seconds. That's on the slowpoke side of the performance equation, but a large proportion of customers should find it satisfactory.
Buick's 250-horsepower turbocharged 2.0-liter engine alters the Verano experience considerably, reaching well past the four-cylinder's lukewarm performance. Suffering virtually no turbo lag, the Verano Premium Turbo edition can reach 60 mph in just 6.2 seconds, a very quick performance. Turbos get slightly quicker steering ratio and a modestly firmer ride. A manual gearbox is available.
In government crash-testing, the National Highway Traffic Safety Administration gave Verano five stars overall. Verano earned a Good rating from the Insurance Institute for Highway Safety, but no small-overlap test was run. An opt-in service, called FamilyLink, lets parents know where teen drivers are at all times.