2016 Cadillac ATS Walk Around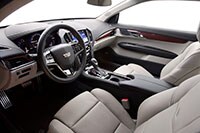 The ATS is striking and crisp, you might even say dramatic and chiseled. It's also universally accepted as beautiful, not easy for a design this bold. It stakes out unique ground that the Germans and Japanese competitors only strive to gain, and exudes confidence from its sculpted flanks. Cadillac calls this theme Art & Science, words that fit the fine details and focal points.
The coupe is softer at the edges and smoother at the corners than the sedan.
Interior
The ATS cabin is stunning, even on the base model, with soothing materials and exceptional fit and finish, in a modern layout. It's warmer than the German cars and more upscale than the Japanese luxury cars. Now add the premium trims, with fancy wood and slick metal and cool carbon fiber, and it all becomes awesome.
There's good headroom and legroom in front, while the sport bucket seats provide comfort for long distances and support for hard cornering. The trunk is small and the back seat is snug, but after all it's not really a big car. The dash feels a bit like it wraps around the driver, an attempt to be ergonomic.
Cadillac calls its infotainment system CUE, and it's been updated for 2016 with Apple CarPlay, to go along with its navigation, Bluetooth, and WiFi hotspot capability. It's located front and center on the dashboard, and provides touch control for things including the sound and climate system. There's a wireless charging mat behind the screen. Cadillac claims to have improved CUE for 2016, but so far we have found the system slow to respond and stubborn to voice command.