2016 Cadillac CT6 Driving Impressions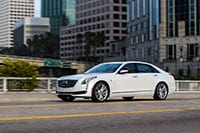 We had a chance to experience two of the three CT6 powertrains in a day of driving dry mountain roads east of San Diego-in two of the three operating modes (Touring and Sport)-and headed home impressed with the new car's combination of willing responses, supple ride quality, fade-free brakes, and accurate steering.
Thanks to relatively low curb weight, acceleration and passing punch are respectable with the 2.0-liter turbo, though not exactly breathtaking. The 8-speed automatic is all but seamless in its upshifts-just the right amount of step sensation-although kick-downs could be a little quicker. The paddle shifters provide better response.
As you'd expect, the twin-turbo V6 provides a livelier experience. Besides getting from A to B in a bigger hurry, the active rear axle (part of the Active Chassis system), which provides rear steering, allows higher cornering speeds and is a confidence enhancer. The chassis engineers have tuned Cadillac's magnetic ride control-an auto-adjusting damping system that's as good as anything on the planet-for a just-right balance between smooth ride and prompt answers to demands from the driver. The system keeps cornering attitudes commendably level, and if the CT6 becomes a little reluctant to turn as cornering speeds increase-read: understeer-the threshold for that reluctance is high.
In addition to its substantial thrust, the new twin-turbo V6 features cylinder deactivation, shutting down half the cylinders in freeway cruising-a first for a turbocharged engine-as well as a stop-start feature.
Bottom line: the CT6 3.0 is a fast car with dynamics that inspire driver confidence, as well as occupant comfort. At a minimum it holds its own versus its Euro rivals, and in some ways-e.g. ride quality-can be perceived as holding an edge. We can't wait to see the hot rod V version.