2016 Cadillac CT6 Introduction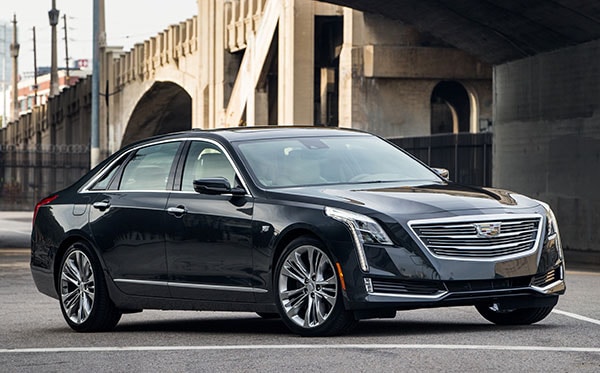 CT6 is the latest flag-carrier for Cadillac, an all-new car conceived, like other recent Cadillac four-doors, to challenge the Teutonic trio-Audi, BMW, Mercedes-Benz-that dominates the luxury sedan market.
It is not unreasonable to say that two earlier offerings, CTS and ATS, measure up to that objective quite well. And the CT6 does the same-but more so.
Although it rolls onto the scene as the biggest of current Caddy sedans, it is in no way reminiscent of the opulent behemoths of the brand's glory days in the 1950s and '60s. The dimensions of the new Cadillac CT6 slot between those of the mid-size German sedans-Audi A6, BMW 5-series, Mercedes-Benz E-Class-and the Fatherland's top offerings: Audi A8, BMW 7-series, and Mercedes S-Class.
While this may not create quite the kind of curbside presence as the lordliest of the Deutsch dreadnoughts, the dimensions embrace an interior with plenty of room, front and rear, thanks to a long wheelbase.
Beyond its contribution to ride quality, the long wheelbase yields athletic proportions-not a lot of car extending beyond the front and rear axles. That's particularly true up front, where the long hood culminates in a very short front overhang. Proportions have been the key to BMW passenger car design success for decades, particularly for the 3 Series, and the CT6 gets high marks in this respect, with an appealingly athletic look.
As you'd expect of a car in this category, the CT6 is chock-a-block with infotainment and connectivity features, standard and optional, as well as quality materials and handsome decor. Nothing is overdone, every surface says quality. No flash, all class.
The foundations are low in mass and high in rigidity, 16 percent higher in torsional stiffness than the CTS, according to Cadillac. The structure involves a new architecture, developed with painstaking attention to minimizing weight. There are no exotic materials like carbon fiber or Kevlar in the technical details, but aluminum has been employed extensively, yielding curb weights that range from 3657 to 4085 pounds, depending on equipment and trim level.
That minimum curb weight is substantially lighter than that of the smaller CTS, and even at max mass the CT6 weighs in a bit south of its mid-size German competitors and substantially lighter than the bigger ones. As well as British high rollers like the Jaguar XJ.
Lighter always adds up favorably on the performance side of the ledger, in handling and of course in what happens when the driver stabs the throttle. There are three possible engines that can be summoned by that throttle: a turbocharged 2.0-liter four-cylinder (265 horsepower, 295 pound-feet of torque); a naturally aspirated 3.6-liter V6 (335 hp, 284 lb-ft); and a twin-turbo 3.0-liter V-6 (404 hp, 400 lb-ft).
All three engines are paired with a new 8-speed automatic transmission. The 2.0-liter is rear-wheel drive, while V6 models are all-wheel drive.