2016 Cadillac CTS-V Driving Impressions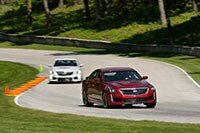 The supercharged 6.2-liter V8's 640 horsepower is matched by 630 pound-feet of torque, a bit less than the Corvette Z06 because of the exhaust system, but other than the oil pan, they're identical engines.
Mated to the engine is a strong and smooth 8-speed automatic transmission, designed and built by GM, also used by the ZO6 where it's mounted as a rear transaxle; in the CTS-V its layout is longitudinal. There's no 6-speed manual gearbox available. It might not be missed. The paddle-shifting 8-speed automatic is very quick, upshifting faster than most twin-clutch auto-manual racing-type transmissions. If you must have a manual, look at the smaller Cadillac ATS-V.
To handle the power the chassis is made more rigid with shock tower braces, a stronger rocker bulkhead, V-braces in the engine compartment, an aluminum shear panel at the front of the chassis, and a brace tying together the upper tie bar and rear bumper.
The rear suspension uses five links and the front suspension multi links with double-pivot McPherson struts. The Magnetic Ride Control system uses dampers containing magnetically charged particles in the oil that can adjust the shock stiffness a phenomenal 1000 times per second, as told by computer-linked sensors. This is the third generation for the MRC system, and that's 40 percent faster than before. The upshot of all this sensing and speed is that your CTS-V will have the right chassis setup for every foot of your driving, whether patchy city pavement or ripply high-speed sweepers, or a smooth racing circuit on a track day.
The ride isn't adversely affected by the big wide Michelin tires, other than the fact that there's treacherously little grip if you get caught in snow or ice. They're 19 inches in diameter, and 9.5 inches wide in front, 10.5 inches wide in the rear. On dry pavement, they grip the road fiercely; the CTS-V can corner at nearly 1g. The tires also allow good feedback to the river, working with the latest German ZF Servotronic II variable-ratio electric power steering system that's 14 percent more firm than before.
The acceleration is neck-snapping and effectively endless, because it gets to 60 mph in 3.7 seconds and doesn't stop until the car hits 200 miles per hour. That's where the big Brembo brakes come in, because they work. Even the racing car that Johnny O'Connell drives uses a version of the Brembos that isn't that much different than those on the road car.