2016 Cadillac CTS-V Introduction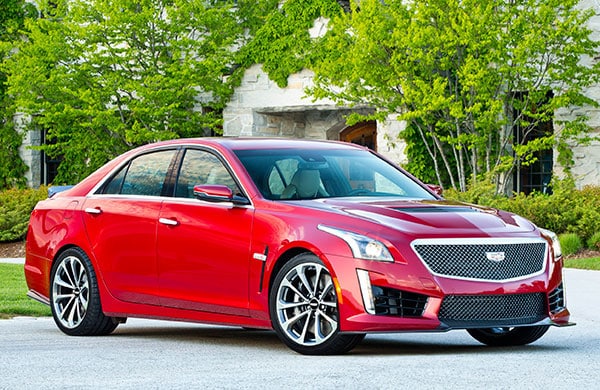 The biggest and best Cadillac news for 2016 is the revival of the epic CTS-V, with its chart-busting supercharged 6.2-liter V8 engine from the Corvette ZO6, making 640 horsepower and blowing the skivvies off (in a good way) anyone who gets behind the wheel. It's built out of the more civilized CTS.
For starters, the CTS-V chassis is 20 percent stiffer than that of a standard CTS, from bracing in key places to handle the forces from all that horsepower. Naturally, the springs and dampers are stiffer, and it uses the wondrous Magnetic Ride Control suspension from the Corvette. It's fitted with big Brembo brakes to slow it down from a top speed of 200 miles per hour, and 19-inch Michelin Pilot Super Sport tires that do a good job of gripping the road in corners, and a futile job of holding back the horsepower if you floor it. Try zero to sixty in 3.7 seconds. Now pull your eyeballs back out of their sockets.
Body changes include a carbon fiber hood, and unique bumpers front and rear, with a splitter under the front bumper to direct airflow for more cooling and downforce. Flared fenders make room for the fat tires, and aerodynamics are improved with edgy rocker panels and a rear spoiler.
At 4145 pounds, it's 200 pounds lighter than the BMW M5. Is it better than the M5 or M6 on the track? We think so, but maybe you should ask Johnny O'Connell, who won the GT championship in the Pirelli World Challenge in his Cadillac, in 2012, 2013, 2014 and 2015.
The new CTS-V hasn't been fully crash-tested, but it did get five stars from the NHTSA in side-impact and rollover tests, while the CTS got top ratings from the IIHS and five stars in every category from the NHTSA.
As for fuel mileage, its estimated 21 miles per gallon on the highway is quite impressive, a statement about today's technology. But it could be half that and it probably wouldn't deter buyers.