2016 Cadillac CTS-V Walk Around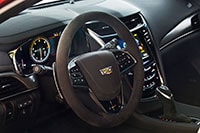 The Cadillac Art and Science design theme is employed here, but it's also apparent that this is not your standard CTS. It's got beef, it's got brawn. It's not for everyone. That's the point.
Still, the CTS-V is clearly a Cadillac. The black trapezoidal grille and vertical headlamps blend into the fat fenders and nose with its splitter that nearly scrapes the ground, while the big spoiler gives it the character of a hot-rod Cadillac.
A carbon fiber option package brings a bigger front splitter, rear spoiler, rear diffuser, and hood vent trim, all in showy, functional, woven carbon fiber.
Interior
Compared to the exterior and what's under the hood, the cabin is understated, in an aggressive and educated sort of way. It's basically the same as the luxury CTS, bathed in a soft and futuristic glow from two screens, a big 8-inch touchscreen and a 5.7-inch monitor between the gauges. Lots of chrome on the instrument panel, which is certainly more interesting than the Dodge Hellcat, and bolder than the German sports sedans.
The CTS-V doesn't forget its tradition, as it includes the latest high technology, problematic though it might be. The CUE infotainment system does navigation, music, phone integration, and Apple CarPlay and Android Auto, but not without complaints. The haptic feedback is inconsistent, and the voice recognition fails half the time. There's also OnStar 4G LTE with WiFi hotspot, wireless phone charging, Siri voice text, and an available Performance Data Recorder for track days.
There's wood trim and stitched leather. The front seats are highly adjustable and very supportive, although we could do without the option that tightens the side bolsters when sensors feel a hard corner coming on; being goosed steals your concentration every time, when you need it for the corner.
Cadillac calls the CTS a 2+2, not a full sedan, so in the rear there's less room and seat support than with some of the other cars this size, as well as less trunk space.