2016 Chevrolet Camaro Introduction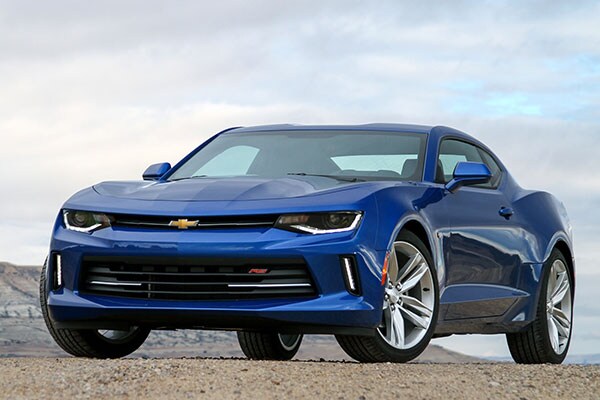 The all-new sixth generation 2016 Chevrolet Camaro makes a mere 455 horsepower in its hottest version, way less than the 526-horsepower Ford Shelby GT350 or 707-horsepower Dodge Hellcat, but we're not going to say it's blown away by them, or that it can't compete with them. After all, what good is horsepower if you can't use it? and to be honest, mostly all you can do with 500-plus horsepower is show it off, which is not the same as using it. But we digress.
The thing about the Camaro is that it also, for the first time in history, comes with a four-cylinder engine. It's a turbocharged 2.0-liter making a civilized 275 horsepower while bringing 30 highway miles per gallon, never mind that that model is the one they call the chick's car. It wasn't that long ago that 275 horsepower was a muscle car. In fact, that was the power produced by the 5.7-liter V8 in the original 1967 Camaro.
The looks of the new 2016 Camaro don't depart much from the 2010-2015 model, but it's changed a lot underneath, as it's slightly smaller, built on the platform of the Cadillac ATS. Even though it has more muscle than ever, the Camaro can't be called a muscle car, because the description has a connotation of the bulk of yore. This Camaro boasts flexibility to match its power, with exceptional handling.
There is also a 3.6-liter V6 that makes 335 horsepower (compared to a mind-bending 140 horsepower from the inline-6 in 1967) and 284 pound-feet of torque to scoot the car to 60 mph in about five seconds, fast enough to challenge the V8 muscle car Camaro of recent past. It uses a 6-speed manual gearbox with rev matching, or an 8-speed automatic with paddle shifters.
And we haven't even gotten to the Camaro SS with its Corvette engine, the LT1 V8 making 455 horsepower and an equal number of foot-pounds of torque. It's formidable and sensational, with zero to 60 times of about four seconds.
A big reason for the superb handling of the new Camaro is its reduced size and weight: 2.3 inches shorter on a wheelbase that's 1.6 inches less, and slimmer by up to 200 pounds. But the new chassis might mean just as much to the car's feel, with engine rails, trunk floor and steering gear from the awesome Cadillac CTS-V.
As always, there is a tradeoff. Smaller exterior means smaller interior, felt in the trunk and back seat, which is fine if your passengers are backpacks. But if you stay in the front seat, the Camaro's cabin has never been more comfortable, organized or detailed. The roof is one inch lower, but the headliner is carved out and the front seats are lower too, so no headroom is lost. A tall driver can strap on his helmet and take the Camaro SS for a track day.
Standard equipment on every 2016 Camaro is the Drive Mode Selector, which allows the driver to select the levels for the car's steering, stability control, shift timing, and throttle response. Four-piston Italian Brembo brakes are standard, with 18-inch alloy wheels and Goodyear Eagle Sport tires.