2016 Chevrolet Camaro Walk Around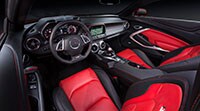 The 2016 Camaro smoothes over and tones down some of the sharp edges of the previous generation. The latest curves are more subtle. Muscular haunches counter a tall nose, big intakes, and narrow grille. It looks menacing in black, which seems like the right temperament. From the side it's striking and polished, especially the sweep of the rear roof pillar, however from some angles it can appear short and even stubby. The styling is sensitive to the point of view.
Interior
The black exterior can be complemented with an interior showing snatches of red, blue or yellow. Gone is the previous Camaro's thrifty interior, replaced with better materials and fewer seams. Thanks to a dropped dashboard and console, the cabin feels fresh and cohesive, with digital gauges, big touchscreens and gimbaled air vents placed in a Star Wars-ish binnacle. In the V6, an exhaust note soundtrack is like music to the ears of the occupants.