2016 Chevrolet Colorado Introduction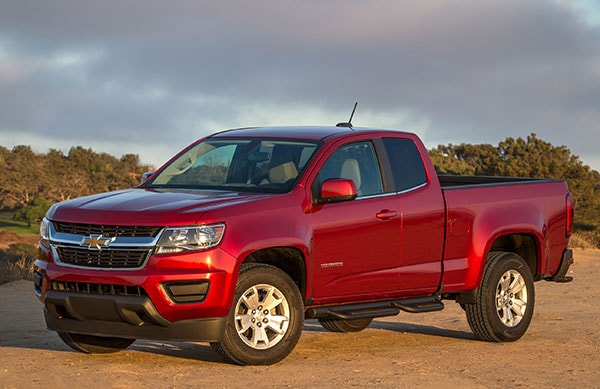 The Chevrolet Colorado and GMC Canyon are the best of the mid-size pickups, at least as of this writing. Completely redesigned from the ground up and launched for 2015, the Chevy Colorado and GMC Canyon went up against an aging and diminished group of mid-size trucks that included the Nissan Frontier and Toyota Tacoma (though an all-new Tacoma is being launched for the 2016 model year).
New for the 2016 Colorado is the late availability of a diesel engine: a 2.8-liter turbocharged Duramax four-cylinder. 2016 Chevrolet Colorado models benefit from updated integration with Apple iPhones, using Apple CarPlay capability, more apps supported, and an enhanced driver information display. Otherwise the 2016 Colorado models carry over unchanged from the 2015 model year.
The Chevrolet Colorado is an excellent alternative to a car for someone who wants or needs a pickup bed. Colorado's payload capacity is 1540 pounds, more than that of a half-ton truck.
The base engine is a 2.5-liter four-cylinder that's also used in the Impala. It makes 200-hp and 191 lb-ft of torque, using a manual transmission or automatic 6-speed. Colorado is rated to tow 3500 pounds.
The upgrade engine is an impressive 3.6-liter V6 making 305-hp and 269 lb-ft of torque, the same engine used in the Cadillac ATS. It sacrifices only a mile or two in fuel mileage. It's rated to tow 7000 pounds, more than the Frontier and Tacoma, as well as some versions of Chevy Silverado, Dodge Ram, and Ford F-150. A Ram 1500 V6 is rated to tow 4190 pounds.
The Chevy Colorado and GMC Canyon use a boxed frame, coil springs in front, leaf springs in rear, electric power steering, and disc brakes with long-life rotors. Two-wheel drive is standard, four-wheel drive is an option. Colorado uses a more traditional four-wheel-drive system that includes a low range than the more sophisticated system used for the Canyon.
Different body styles work for buyers with different needs. There's a four-door crew cab for carrying people, with a either a five- or six-foot pickup bed. There's an extended cab with a six-foot bed.
The Colorado drives well and offers excellent packaging and interior space, bed features, fuel mileage, driving position, and connectivity.