2016 Chevrolet Corvette Introduction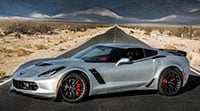 The Chevrolet Corvette is an icon, now in the third year of its seventh generation, which is why it's sometimes referred to as a C7.
The 2016 Corvette is available with two engines and as a coupe or convertible. The Stingray uses a 6.2-liter V8 making 455 hp and 460 foot-pounds of torque, and can accelerate from 0 to 60 in 3.8 seconds. The Z06 uses a supercharged 6.2-liter making 650 horsepower and 650 foot-pounds of torque; with the 7-speed manual transmission the Z06 can accelerate 0-60 in 3.2 seconds, and with the 8-speed automatic it can do it in an eye-popping 2.95 seconds.
From the start, the C7 was designed with a solid aluminum body structure as a convertible, with the coupe top bringing extra rigidity; historically, convertibles have been created from coupes, so there has always been flexing and shake. That's a thing of the past, at least with Corvette engineering. Many good things result, from no interior rattles to much better cornering at speed.
The 2016 Stingray and 2016 Corvette Z06 get new options and color-coded interior and exterior design packages with special wheels, a carbon fiber hood, and special convertible tops. There will be 500 models made with the C7.R Edition package that mimics the fantastically successful factory racing cars.
Other new equipment for the 2016 Corvette includes a flat-bottom steering wheel, a power latch for the rear hatch, and an available front camera to prevent hitting the low spoiler on sidewalk curbs.
For all the performance, the Corvette still gets good mileage, with an EPA-estimated 21 mpg Combined city and highway. The Z06 with its humongous 650 horsepower is rated 16 mpg.