2016 Chevrolet Cruze Driving Impressions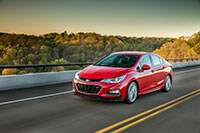 All 2016 Chevrolet Cruze models come with a 1.4-liter four-cylinder engine, turbocharged to generate 153 horsepower. The Cruze can accelerate from zero to 60 in 7.7 seconds, according to Chevrolet. That's adequate performance, though it isn't sporty.
Mostly the engine and 6-speed automatic transmission operate quietly in the background as the Cruze breezes along. It's a good combination and makes the Cruze good for running errands. When commuting, the driver may need to punch the throttle to accelerate up an on-ramp to join fast traffic.
The Cruze manages turns nicely and is capable of briskly cruising down winding rural roads without significant body lean. Four wheel sizes are available. We found the best ride quality came from the smaller diameter wheels (15- and 16-inch) with taller sidewalls. Cruze Premier models are available with 17- and 18-inch wheels, and we think the 17-inch wheels would be easier to live with every day.
The 2016 Cruze uses a new structure, lighter and more rigid than that of the previous generation. Lighter weight means better fuel economy, better handling, better braking. A more rigid structure means better handling and a smoother ride. The Cruze rides firmly but not harshly, though the 18-inch wheels are less comfortable.