2016 Chevrolet Cruze Introduction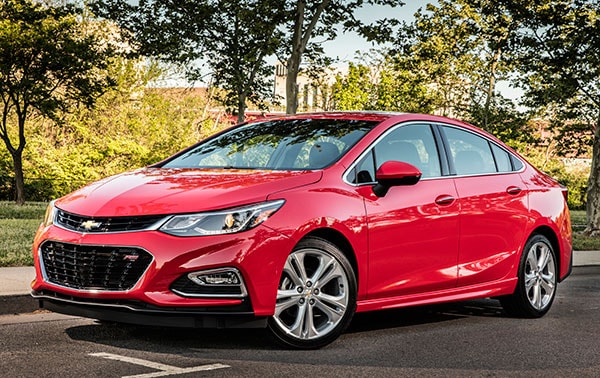 Redesigned for 2016, Chevrolet Cruze is a compact sedan that glides down the road with surprising levels of refinement for the class. Attractively trimmed inside, the 2016 Cruze offers easy everyday operation and practicality.
The Chevrolet Cruze should be on any shopping list that includes the Honda Civic, Toyota Corolla, Ford Focus, or Nissan Sentra.
The all-new 2016 Cruze is substantially longer (by three inches) than the previous generation riding lower on a slightly longer wheelbase.
Benefitting from extensive wind-tunnel development to minimize drag and maximize fuel economy, the Cruze looks a bit like the electric Volt, but all Cruze models are powered by a small turbocharged gasoline engine.
The 1.4-liter engine uses turbocharging and direct fuel injection to generate 153 horsepower and 177 foot-pounds of torque while achieving an EPA-estimated 30/42 mpg City/Highway, or 35 mpg Combined, with the popular 6-speed automatic transmission. Loaded models get slightly reduced fuel economy due to added weight. With the standard 6-speed manual, the 2016 Cruze is rated 29/41 mpg.
Inside is a roomy cabin, with roomier back seats than those offered by the Hyundai Elantra or Ford Focus.
Cruze cruises easily. The handling is not sporty but it's enjoyable to drive, with a smooth, easy manner. Its pleasant balance of ride and handling is a result of a more rigid unit-body than what was used in the previous generation, along with precise suspension tuning and reduced weight. Cruze Premier models use a suspension upgraded with a Watt link, a little nicer than the standard torsion-beam suspension that comes on the rest of the lineup.
A rearview camera is standard equipment along with a seven-inch touchscreen that includes Apple CarPlay and Android Auto with streaming audio. An eight-inch display and 4G LTE hotspot is a popular option, along with wireless cell charging, premium leather interior, even heated rear leather seats, unusual in this class.