2016 Chevrolet Cruze Summary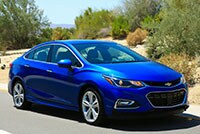 The 2016 Chevrolet Cruze is a compelling compact sedan. Be sure not to mix up the all-new 2016 Cruze and not the previous-generation Cruze Limited or Cruze Limited Eco. The all-new version is a big improvement over those models.
New Car Test Drive editor Mitch McCullough contributed to this report, with staff reports by The Car Connection.