2016 Chevrolet Impala Summary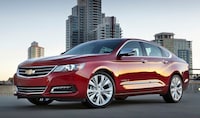 With strong V6 acceleration and appealing ride/handling, this is the best-equipped Impala in recent years. Prices can reach well past $40,000 if you pick an LTS and you're imprudent with the option list. A well-equipped LT runs closer to $32,000.
Driving impressions by Marty Padgett, The Car Connection. James M. Flammang contributed to this report.