2016 Chevrolet Malibu Introduction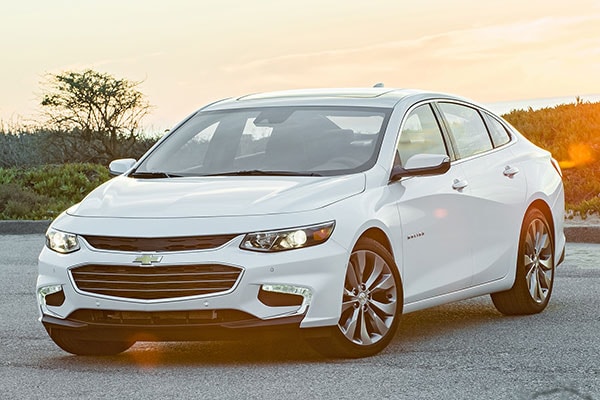 The all-new 2016 Chevrolet Malibu ranks among the best of the midsize sedans. It was a finalist for the 2016 North American Car of the Year award, and compares well against Honda Accord, Toyota Camry, Ford Fusion, Kia Optima, Nissan Altima and Maxima. The Malibu's refinement, comfort, easy-to-use controls, driving pleasure, and fuel-efficiency add up to a great sedan.
With its new design and entirely new structure, the 2016 Malibu has moved closer to the larger Chevrolet Impala in shape as well as dimensions. Following the trend toward lightness and efficiency, weight has been cut by nearly 300 pounds over the previous-generation Malibu. No V6 option is offered for this generation, and no engine is bigger than 2.0 liters.
Most 2016 Malibu models come with a new 1.5-liter turbocharged four-cylinder engine. Developing 160 horsepower and 184 pound-feet of torque, the new engine feels smoother and stronger than the old 2.5-liter it replaces. Quiet-running and neatly composed, the turbocharged 1.5-liter engine mates with a 6-speed automatic transmission.
The 2016 Malibu 2LT and Malibu Premier get a 2.0-liter four-cylinder. Generating 250 horsepower and 258 pound-feet, it drives an 8-speed automatic, which promises more precise, well-defined gearchanges. The 2.0-liter models feel as swift as some V6 forerunners, and rank among the most refined cars of their class.
The 2016 Malibu Hybrid couples a 1.8-liter four-cylinder gas engine with twin electric motors and a 1.5-kWh battery pack for combined output of 182 horsepower. Chevrolet claims 0-60 mph acceleration in 8.2 seconds. The Hybrid can function at times in full-electric mode, up to 55 mph, and is EPA-rated at 48 mpg in combined driving. We've found the Malibu hybrid powertrain to be a smooth operator.
Inside, the 2016 Malibu seems significantly more spacious than before, though dimensions haven't changed much. The dashboard is lower than previously. New seats provide better support, besting some rivals in comfort. Noise has been suppressed by rerouting air intakes and adding active noise cancellation. Few engine sounds are heard.
MyLink connectivity comes on most models with a big, crisp touchscreen. OnStar 4G LTE, for establishing a wireless hub, is available.
All except the 2016 Malibu L come with a rearview camera. Active-safety features are offered, including new Front Pedestrian Alert; but some are available only for Malibu LT and Malibu Premier models. With the new Teen Driver system, parents can specify a maximum speed, and the vehicle tracks infractions. Malibu comes with 10 airbags.