2016 Chevrolet Malibu Walk Around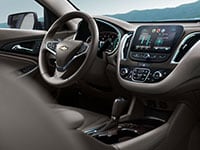 The 2016 Malibu is a handsome, smartly balanced design. Malibu shuns the tall, awkward look of its 2013-15 predecessor, lowering the nose and extending the doors while adding 2.3 inches to overall length and 3.6 inches to wheelbase. Despite that dimensional increase, Malibu remains at the smaller end of the size spectrum in its class.
Sculpted body panels meet in a gentle intersection, and proportions have been stretched out. Usage of more high-strength steel permits slimmer roof pillars, which improve forward vision. Headlights and air intakes sit atop an enlarged, lower-set twin grille.
The entire body structure is totally new.
Interior
Relatively understated, the 2016 Malibu cabin looks elegant, even charming. The prior upright, two-tiered dashboard is gone, replaced by a conventional design. Buttons are used for some control functions, and the center stack holds bigger MyLink infotainment screens, with storage space. Soft-touch surfaces are abundant.
Serene and spacious, this Malibu is more passenger-friendly than the previous model. Headroom is a bit restricted by the swooping roofline, but still among the best in its class though tall riders might not like the carved-out portions of the headliner. Seats feel sturdy, with ample bolstering as well as sufficient support for long treks.
Rear legroom feels much greater than before.
Wind and road sounds are mostly isolated from occupants, though you're likely to notice certain impacts and rough pavement patches.
Trunk space measures 15.8 cubic feet; Malibu Hybrid offers 11.6 cubic feet.