2016 Chevrolet SS Introduction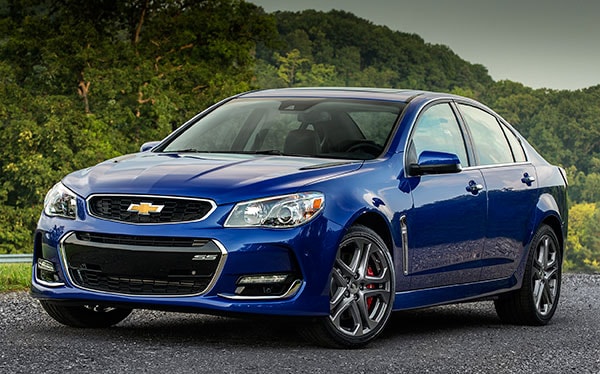 The Chevrolet SS is a full-size four-door sports sedan with one engine, a huge 6.2-liter V8. There's really only one competitor to the SS, and it's a worthy one, a Dodge Challenger with a 392 cubic-inch Hemi. There is also the 707-horsepower supercharged Challenger Hellcat, but that's in a tire-smoking world of its own.
The SS is Chevrolet's first rear-wheel-drive sedan since the 1996 Impala, which lives today as a front-wheel-drive car. But it's not the Impala that the SS has evolved from, it's the 2008 Pontiac G8 that was developed Down Under. GM sent engineers from Detroit there to work on that car.
In Australia, GM calls itself Holden. There, the throaty Commodore SS is seen as the last muscle car, prestigious and high profile on those long flat highways. Despite the lack of corners, and the low speed limits enforced around the cities by Big Brother cameras, the Australian-built cars have always handled better than the American-built ones (just as the Australian V8 Supercar Series blows NASCAR off the track when it comes to road course execution and excitement). The SS benefits from its Australian experience, mainly in the excellent balance from 52/48 weight distribution, and carefully developed multi-link rear suspension.
Another thing about the SS: it's a cop car. It's refined, and it has style, but a strip search will uncover a Chevrolet Caprice PPV (Police Patrol Vehicle). The Blues Brothers never had it so good.
With only the big V8 engine, the SS isn't intended to be a big seller. Chevrolet appears to build it just because it can, and to keep its tradition alive. Also to keep enthusiasts happy (as if they couldn't be happy with the stunning Corvette and dazzling Camaro SS). And perhaps to make the folks at Chevrolet happy, to see it here.
That V8 is a 415-horsepower version of the previous-generation Corvette LS3 engine (70 horsepower less than the Hemi engine in the Dodge Challenger). It comes with a solid 6-speed manual transmission (truly old school in a full-size sedan), or a 6-speed automatic that unfortunately isn't up to the task. It accelerates from zero to sixty in 4.7 seconds, and sounds nice doing so, a burble at zero and bark at sixty. Beefy Brembo brakes, Magnetic Ride Control dampers, and 19-inch forged aluminum wheels with Z-rated tires are standard. Cops need that stuff.
The SS hasn't been crash tested, because it is low volume. It gets an EPA-rated 17 miles per gallon Combined city and highway driving, with either the manual or automatic transmission; that's 15/21 mpg City/Highway with manual, 14/21 mpg City/Highway with automatic. However, the manual avoids the $1300 gas guzzler tax, don't ask us why.
Nice changes for 2016 include a revised front fascia with vertical ducts at the outer edges, LED front running lights, hood vents, alloy wheels with painted pockets, and standard navigation.