2016 Chevrolet Silverado Driving Impressions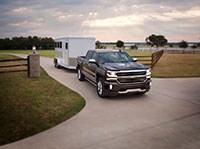 By pickup truck standards, the Chevy Silverado boasts a nice, smooth ride. Handling is relatively responsive, again for a full-size pickup. Ride quality is noticeably more refined when compared with previous-generation Silverado models, or any full-size pickup from more than a couple of years ago.
Electric steering and four-wheel disc brakes designed for durability are standard equipment.
The 4.3-liter V6 runs smoothly, benefitting from a balance shaft. We used it to tow a camping trailer that weighed about 4700 pounds, and found no difficulty merging into fast traffic or powering up tall grades.
The 5.3-liter V8 is the most popular choice, rating 355 horsepower and 383 pound-feet of torque, and we found it delivers quick acceleration performance. Maximum rated towing capability with this engine is 11,500 pounds, though a Silverado 2500 would work better for a trailer that heavy.
The 6.2-liter V8 is the most powerful choice, with 420 horsepower and 460 pound-feet of torque. A Silverado High Country with the 6.2-liter is rated to tow up to 12,000 pounds. Beyond 10,000, however, we would start thinking about a Silverado 2500 for its superior stability and tongue-weight capacity.
Cylinder deactivation is used by all three engines, which can run on just four cylinders when cruising or slowing down for improved fuel economy. These are all-aluminum engines for lighter weight, and feature the latest in continuously variable valve timing and direct injection.
We have found both the 6-speed and the 8-speed automatics to be smooth operators. Fuel economy has not been shown to be better with the 8-speed, but we would still prefer it for the added flexibility, assuming it proves reliable.