2016 Chevrolet Sonic Walk Around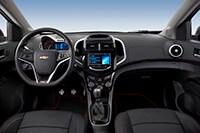 Some might call the Sonic's design bold; others deem it conservative. Overall, it's an appealing blend of the two. Round projector-look headlights flank a horizontal split grille. Clear headlight covers wrap back along the fenders.
An angled window line gives the five-door hatchback a distinctive look, leading back to a close-cropped rear end. Viewed from the side, it's almost a coupe-like profile. Rear door handles on the hatchback are concealed within a black trim panel.
Interior
Familiar in appearance, the twin-cockpit dashboard contains an instrument cluster said to be motorcycle-inspired. Fitted with high-quality materials, upmarket for a subcompact car, the dashboard's center curves downward into the console. In addition to a digital speedometer, plenty of digital icons are displayed. Rather than up-to-date color, however, the display is monochrome.
Four adults fit nicely. Front seats are spacious and comfortable. Backseat legroom is adequate for adults, provided those front seats aren't pushed too far rearward. Head and shoulder space is fine in the rear.
A number of storage bins, trays, and cubbies are provided up front. In the rear, not so much. One annoyance: no standard USB port.
Cargo volume in the hatchback measures 14 cubic feet, with a hidden storage area under the load floor (which is somewhat high). Although that space is bountiful for a car of subcompact dimensions, the hatchback falls a bit short compared to Honda's Fit. Sonic sedans have a 19-cubic-foot trunk.