2016 Chevrolet Suburban Walk Around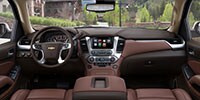 The old Suburban was slab sided, and it showed. This latest Suburban is creased and pressed. The character line at the door handles especially gives the big SUV some dimension.
Interior
The Suburban is flexible, seating from seven to nine passengers with the optional front bench seat and second-row captain's chairs. It's hard to find fault with the interior, even with the standard cloth upholstery in the LS model.
It's just about the quietest ride in the class, with minimal wind and road noise. The engine is only audible when the driver stomps on the gas pedal, which opens valves in the intake and/or exhaust system, sending a pleasant V8 baritone to the cabin.
The curved console of the upscale interior is like a counterpoint to the angular exterior. There's an available eight-inch touchscreen with audio controls, and a head-up display with important data for the driver. If you want to stack on the features, there's a Blu-Ray DVD entertainment system and as many as six USB ports and six power outlets.
Throughout the cabin there is useful space for little things, a bunch of cupholders, and a center console that can hold a tablet or notebook computer. The rear seat folds flat, and allows good headroom and legroom. The wayback third row is livable for adults on a very short trip but best for kids.
The third row also folds flat for cargo, with power operation available, and there's an available cargo management system.