2016 Chevrolet Tahoe Introduction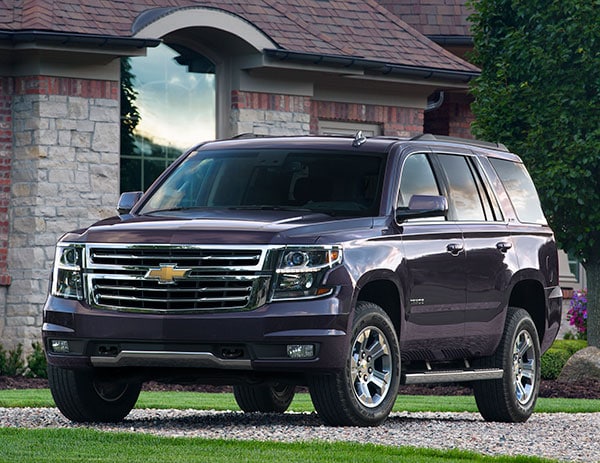 The Chevrolet Tahoe was completely redesigned for the 2015 model year, so for 2016 Tahoe carries over largely unchanged.
Tahoe is a full-size SUV capable of pulling heavy trailers or hauling lots of cargo or people or doing all those things at once. Staunchly upright in profile, the versatile Tahoe is closely related to the stretched-out Chevrolet Suburban, along with the GMC Yukon, Cadillac Escalade as well as the Silverado and Sierra pickups.
In addition to seating up to nine occupants, depending on seating configuration, the Tahoe possesses the muscle to carry a full load of passengers and all their luggage; and even to tow a boat in the process. Impressively capable off-road as well on the highway, Tahoe comes with four-wheel drive or rear-wheel drive. Today, most SUVs are built like cars based on front-wheel-drive chassis and do not offer the towing ability or off-road capability of the Tahoe.
Though still built like a truck, this latest Tahoe exhibits more carlike traits than the prior generation. Inside the cabin, too, passengers can enjoy considerably more quietness than in past generations. As for amenities, a Tahoe LTZ is equipped to rival the Cadillac Escalade.
All Tahoe models use GM's 5.3-liter V8, developing 355 horsepower and 383 pound-feet of torque, mating with a 6-speed automatic transmission. In addition to efficient direct injection, the V8 incorporates a cylinder deactivation system that helps cut fuel usage by shutting off half of the eight cylinders, while cruising along with a light load. Because there's no vibration or clanking sounds, no one is likely to notice the switchover.
The 2016 Chevrolet Tahoe has been updated with an enhanced Driver Alert package that includes power-adjustable pedals, forward collision alert, lane keep assist, and a Safety Alert seat that produces pulsations to warn of possible dangers. A new radio includes OnStar 4G LTE with a wi-fi hub. Phone integration technology in MyLink adds Apple CarPlay capability.
The National Highway Traffic Safety Administration (NHTSA) has given Tahoe five-star ratings in frontal-offset and side-impact crash-testing, though a three-star rollover score shrinks the overall rating to four-star. Six airbags are standard, though bucket-seat models add a front-center airbag. Options include a lane-departure warning, forward collision alert, blind-spot monitoring, adaptive cruise control, and front parking sensors.