2016 Chevrolet Traverse Driving Impressions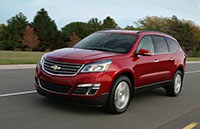 A quiet, smooth, well-controlled ride heads the list of performance attributes. Handling capability is about as good as can be expected, if less than agile and marred by a rather heavy feel overall. Even so, despite its abundant dimensions, the Traverse manages to react well enough when quick maneuvers are needed. Little road, wind, or engine noise can be heard. Unlike many current vehicles, which have switched to electric power steering, the Traverse retains a hydraulic setup.
Acceleration is swift enough for a family vehicle, but a Traverse struggles on upgrades, or even when starting off from a stop. Gas mileage is not great, due in part to this crossover's weight: in the 5,000-pound neighborhood. With front-drive, the Environmental Protection Agency estimates fuel economy at 17/24 mpg City/Highway. All-wheel drive drops those figures to 16/23 mpg City/Highway. That's roughly in the middle of the three-row-vehicle category.