2016 Chevrolet Trax Driving Impressions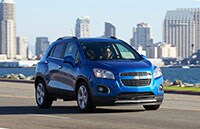 With such a small engine, performance isn't a strong point. Acceleration is good up to about 50 mph; but then, the Trax begins to lose vigor. When a burst of energy is needed for passing, safety concerns dictate planning ahead. Ordinarily quiet, the engine gets considerably noisier past 3500 rpm. In addition to modest engine power, transmission gearing aims at economical around-town driving.
Handling ranks about average for a small utility vehicle: unremarkable and non-sporty, yet well controlled. Though it feels solid on the highway, and the suspension soaks up bumps reasonably well, a Trax isn't nearly as much fun to drive as a Mazda CX-3 or Jeep Renegade.
On the plus side, steering weight feels about right at almost any speed, with adequate feedback to the driver. The electric power steering provides good on-center tracking, minimizing variance from the desired path on straightaways. No rattling or squeaking is likely to reach occupants' ears.
A Trax with all-wheel drive Trax rides half an inch higher and feels a bit heavier than a Trax with front-wheel drive. Expect some body roll, but the relatively wide track helps eliminate any sense of imminent tipover. Intended to improve traction in inclement weather rather than permit off-road treks. AWD includes rear disc brakes in place of drum brakes.
At up to 29 mpg EPA Combined, fuel economy is good, but the Honda HR-V and Mazda CX-3 are more frugal. With front-wheel drive, the Environmental Protection Agency ( EPA) estimates 26/34 mpg City/Highway. All-wheel drive drops estimates to 24/31 mpg.