2016 Chevrolet Trax Introduction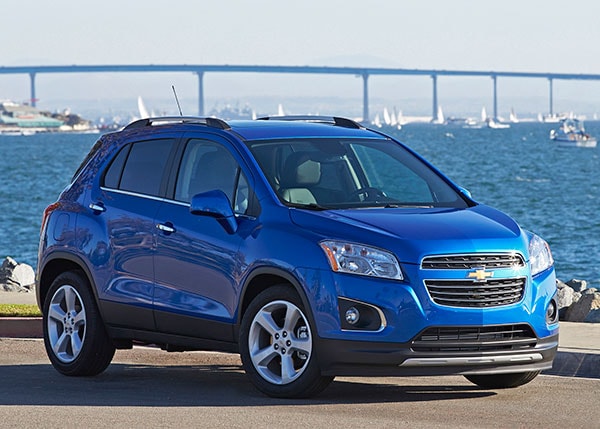 The Chevrolet Trax is a five-passenger hatchback with a spacious and versatile interior. The Chevrolet Trax is basically a fewer-frills version of the Buick Encore. Both models are built upon the architecture of the Chevrolet Sonic sedan.
Trax was introduced for 2015 as Chevrolet's second smallest model, while Canadian dealers had the Trax for two years before its U.S. debut. Except for some new colors, nothing has changed for 2016.
As expected, fuel economy is a prominent benefit, while acceleration falls on the ho-hum side. And speaking of ho-hum, the styling is bland.
Beneath the hood, a 1.4-liter turbocharged four-cylinder engine makes 138 horsepower and 148 pound-feet of torque. The 6-speed automatic transmission has a broad range of ratios. This translates to comparatively swift takeoffs, while a deep overdrive sixth gear promises relaxed, thrifty cruising on the open road.
Despite having the footprint of a subcompact car, the Trax measures 66 inches tall. It's like a tall five-door hatchback, with an arched roofline, tall hood, and attractively sculpted bodysides that don't convey a slab-sided look. Lower body elements look like rubber, hinting at inherent ruggedness. That's something of an illusion, as the Trax is hardly ready for wilderness trekking, even with all-wheel drive.
Despite its official five-passenger capacity, Trax, like many smaller vehicles, seats no more than four adults comfortably.
Controlled handling and a comfortable ride are appealing, and responsive electric power steering yields good maneuverability, but there's nothing particularly sporty about a Trax.
Safety features include a rearview camera and 10 airbags, but Trax lacks any modern active-safety systems. Both the driver and front passenger get knee airbags, and all four outboard seating positions are fitted with side thorax airbags. Crash-test scores have been excellent, led by a five-star overall rating from the National Highway Traffic Safety Administration (NHTSA). Trax was deemed Good by the Insurance Institute for Highway Safety, its highest compliment.