2016 Chevrolet Trax Walk Around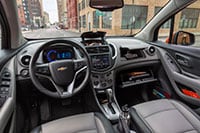 Even though Trax designers borrowed styling cues from Chevy trucks, placing them on a tall hatchback-style body, the general effect is generic. On the whole, Trax appears far less distinguished than Buick's Encore. Except for front doors, the two share nothing.
Chevrolet appears to have taken the safe route, compared with the look of a Jeep Renegade, MINI Countryman, or Nissan Juke. The end result is inoffensive, but unseasoned. Regardless, we think the Trax's slightly squarish body lines come off better than the Buick's collection of curvaceous swoops and metallic frills.
The base Trax LS has black door-mirror pedestals and lacks chrome beltline strips, signaling its low-budget nature. Roof rails are absent, too, which ironically results in a cleaner appearance.
Interior
Inside, Trax adapts Chevrolet's twin cockpit styling theme to a more practical, upright layout, while exhibiting a similar motorcycle influence. The instrument cluster itself is almost identical to the one in the Chevrolet Sonic. The standard 3.5-inch monochrome display screen holds a digital speedometer.
The simplicity and trim in a Trax exude an almost sporty tone, though impaired by abundant hard black plastics. That's one sign of cost-cutting on lower-end models.
Cargo space expands from 18.7 cubic feet with rear seatbacks up, to 48.4 cubic feet with them folded. In comparison, Honda's HR-V offers 23.2 and 57.6 cubic feet, respectively. The front passenger seat can fold flat for long items.
The base-model's black-cloth upholstery has contrasting blue stitching, whereas the LTZ gets better-quality two-tone vinyl upholstery.
From inside, the Trax feels like a larger vehicle. Front and rear occupants get plenty of headroom, and seats are comfortable, but front passengers' shoulders aren't very far apart. Seat cushions are long enough to suit most taller drivers. You can count 15 storage spots.