2016 Chevrolet Volt Introduction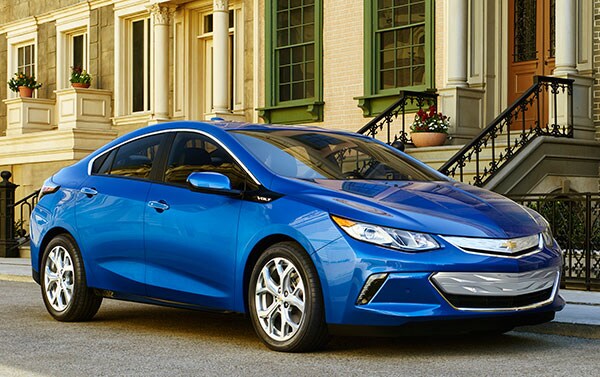 The 2016 Chevrolet Volt, a five-door fastback hatchback, is all new. It's not like most other cars that are called all-new. With the electric Volt it really is all new, and it's important. The first generation of Volt was groundbreaking, and as such had shortcomings. This Volt rewrites the book, in order to cover what was missed in the original.
For starters, it has way more all-electric range, EPA-rated at 53 miles (up from 38); better fuel mileage, EPA-rated 42 Combined miles per gallon (up from 37); and a slightly lower price. In electric mode, the EPA rates the Volt at 106 MPGe (miles per gallon equivalent). An 8.9-gallon fuel tank with the new battery pack give a total gas/electric range of 430 miles, way up from the old Volt's 340 miles.
The new Volt is quieter, smoother, and faster: zero to sixty in about 8 seconds, down from 9. Total output to the wheels is the same 111 kilowatts (149 hp), but torque has increased to a remarkable 294 pound-feet from 273.
It's 200 pounds lighter, while seating another person, now five, never mind that it should be a small person. More visibly, the new styling is quite rakish and sporty; instead of sticking out and announcing ELECTRIC CAR, like before, the Volt now turns heads that ask, electric car? (It's actually a hybrid extended-range car, or something like that.)
The cockpit is also less self-conscious, in that it doesn't try so hard to be different. The high-tech chase is toned down, allowing the controls to be more conventional and intuitive. The first Volt's irritating touch switches have been replaced by knobs for audio and climate control.
The chassis/platform is also new, to be used by upcoming GM compact cars, for example the next Chevrolet Cruze. It's modified to make space for the Volt's T-shaped battery pack. This is the area where improvement is zooming, now with 192 lithium-ion cells, when before there were 288. Battery capacity is 18.4 kilowatt-hours, about 8 percent more.
According to Chevrolet, 90 percent of Volt buyers' round trips will be less than 53 miles, so we're talking almost never buying gas. But the internal combustion engine is there for the real world, insurance against running out battery power, the elimination of range anxiety. The engine is a 1.5-liter four-cylinder making 101 horsepower, developed to fire on the efficient Atkinson Cycle.
Neither the Insurance Institute for Highway Safety nor the National Highway Traffic Safety Administration have yet rated the 2016 Volt for crashworthiness; the 2015 Volt received five stars (the highest rating), and GM isn't going to let the new one go backward. The 2016 Volt comes with 10 airbags.