2016 Chrysler 200 Introduction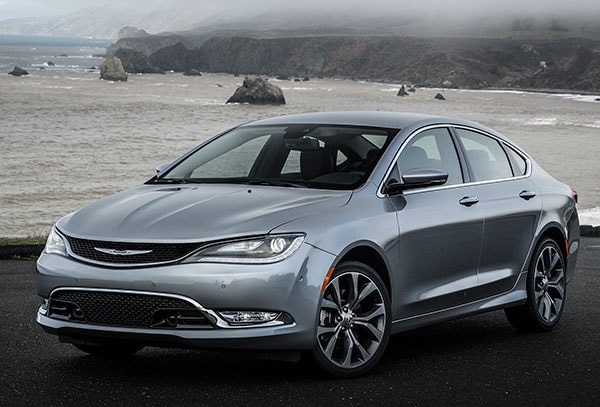 The Chrysler 200 is an attractive, comfortable, and truly appealing sedan. A beautiful and neatly detailed interior blends amicably with the smooth, graceful exterior. Introduced for the 2015 model year, this latest Chrysler 200 is a striking improvement over the previous version.
For 2016, Chrysler 200 has just a few feature changes, along with some interior improvements, and three new exterior colors. 2016 Chrysler 200S and 2016 Chrysler 200 Limited models come standard with a rearview camera. Blind-spot Monitoring and Rear Cross Path detection are optional for the Limited, which can now be equipped with a V6 engine. A heated steering wheel is now standard on 200C models.
A 90th Anniversary Package is available, to mark the 90th year of the Chrysler brand, based upon the Limited model.
Two engines are available. Chrysler's 3.7-liter V6 engine, developing 295 horsepower and mating with a 9-speed automatic transmission, is a smooth-operating powertrain. The V6 amounts to Chrysler's answer to turbo-four engines available from competitive makes. With the V6 engine, the Chrysler 200 is EPA-rated at 19/32 mpg City/Highway, or 23 mpg Combined.
An also-smooth 184-horsepower, 2.4-liter four-cylinder engine is standard, but all trim levels other than the 200LX can get the V6. Gas mileage is EPA-rated at up to 23/36 mpg City/Highway with the four-cylinder engine.
The Chrysler 200 is built on an extended version of the Dodge Dart platform, adapting the Dart's front and rear suspension, as well as electric power steering. Front-wheel drive is standard, but all-wheel drive is available as an option on 200S and 200C models.
Inside is an attractive cabin, spacious in front but tight in the back seats.
Underway, the Chrysler 200 is pleasant, though a bit firm, with average handling.
The Chrysler 200 has received excellent crash-test ratings from both governmental (NHTSA) and insurance-related (IIHS) testing agencies.