2016 Chrysler Town & Country Introduction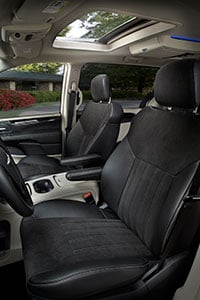 Tucking a lavish array of equipment and a passel of luxury touches into a rapidly aging body yields the only premium-level minivan on the U.S. market. Largely identical in structure and mechanical elements to the Dodge Grand Caravan, the Chrysler Town & Country is priced higher but contains enough features to justify the added expense.
Despite its obsolete underpinnings, the Town & Country is the most luxurious, and perhaps the most flexible, minivan on the American road.
Both the Chrysler and Dodge minivans have a long history, having debuted for the 1984 model year. Each has been a popular item through the years; but those years have taken a toll, in terms of the ability to cope with today's crash-testing programs.
Sole drivetrain of both minivans is a 283-horsepower V6 engine, coupled to a 6-speed automatic and front-wheel drive. That's entirely sufficient for carrying a large family or group of friends, on long trips or short jaunts. Chrysler does not offer all-wheel drive for them; all are front-wheel drive. And that's the same story with its competitors, except for the Toyota Sienna.
Chrysler's minivans have retained the same basic body style since 2008, though restyled three years later. That's a considerably advanced age for any type of passenger car. Yet, the Town & Country still looks attractive, at least judged by minivan standards.
Chrysler and Dodge minivans promise good visibility from the driver's seat all around. They also stand out for seating convenience. Stow 'n Go seating offers one-touch fold-down action. On the connectivity front, a Uconnect technology group ensures convenient control of multiple media sources, along with hands-free phone connectivity. To satisfy frequent Internet users, optional Uconnect Web can transform the minivan into a Wi-Fi hot spot.
Second-row captain's chairs are available for Touring-L, Limited, and Limited Platinum models, dropping passenger capacity from eight to seven.
Available for 2016 is dual-screen DVD entertainment, featuring HDMI input for video game systems. An available super center console provides CD/DVD storage.
Because the Town & Country is due to be replaced by a markedly different minivan during 2016, nothing of consequence has changed for the current model year, apart from a new special edition: The Town & Country Anniversary Edition commemorates 90 years of the Chrysler brand. Based on the Touring-L model, it includes a sunroof, heated first- and second-row seats, heated steering wheel, and Keyless Enter 'n Go.