2016 Dodge Charger Driving Impressions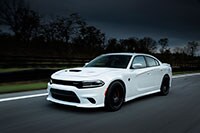 Across the lineup, Chargers hit and surpass the mark on performance, given their level of comfort and everyday usability. Chargers also handle well for a big sedan, surprisingly. Except for the bit of lean and body roll, a Charger is much more nimble than a Chevrolet Impala or Ford Taurus. Ride quality is firm but comfortable.
Satisfying and quite responsive with the V6, the Charger imparts a secure, confident feel. A V6 is really all that most drivers need.
Still, you can't beat the character and firepower of eight cylinders. With any V8, the 8-speed transmission allows relaxed mid-throttle passing. Typical of American V8s, the R/T provides plentiful low-rpm torque, and the automatic performs flawlessly, though the engine is quite vocal.
V6-powered Chargers are EPA-rated at 19/31 mpg City/Highway, 23 mpg Combined; all-wheel drive drops the figures to 18/27 mpg. The 5.7-liter Hemi V8 is EPA-rated at 16/25 mpg City/Highway, or 19 mpg Combined. Hellcat? Think 13/22 mpg, or 16 mpg Combined.