2016 Dodge Dart Walk Around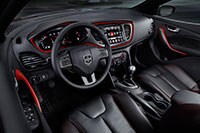 With its wide stance and seemingly low cowl, the Dodge Dart looks more substantial than some other models in its class.
Like the larger Dodge Charger sedan, with its chunky, spirited appearance, the Dart suggests a sense of dignity and seriousness that isn't always present in an affordable model. A long, smoothly flowing roofline and low fender tops help differentiate Dart from the more boxy look of a Cruze or Focus.
Interior
Inside, a flowing dashboard builds upon the sporty-looking exterior. Upper-level models feature an 8.4-inch display that handles navigation, climate, and audio controls. A smaller screen, offering vehicle information, sits between gauges.
Unlike some compacts, the Dart is amazingly spacious. In some ways, it's virtually a midsize sedan. Seats are comfortable in both the front and the rear. Considering the Dart's profile, the seating position is higher than you might expect.
For a relatively low-priced compact, the cabin appointments come across as warm and inviting. Just about everywhere you're likely to touch, the surfaces feel soft and coordinate neatly with the details of the dashboard. Large swaths of textured plastic detract from potential elegance, however.
Outward visibility is impressive. That's not such a common appraisal in this era of strengthened roofs.