2016 Dodge Durango Driving Impressions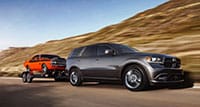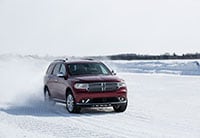 More traditional in body proportions than most utility vehicles, Durango offers some of the sturdy towing ability of a truck, but behaves like a crossover. Even the V6 versions are impressive performers. With 290 horsepower (295 with Rallye Package), a V6 Durango is quick and strong enough to handle most any chore, estimated at 20 mpg in Combined driving.
Still, the Hemi V8 is worth considering if you need to haul heavy boats or trailers.
An all-wheel-drive Durango gets a true low range for its AWD system.
The 5.7-liter Hemi V8 shines not only in interstate cruising, but for energetic takeoffs. Even with the wide gear-ratio span of its 8-speed automatic, however, the V8 gets thirsty. The V8 model is EPA-rated at 14/23 mpg City/Highway, or 17 mpg Combined. All-wheel drive drops the estimate to 14/22 mpg City/Highway, or 16 mpg Combined.
In some versions, the automatic transmission includes shift paddles, but programming could use some attention. Unlike other setups, Durango sticks in manual mode until you hold the upshifting paddle for three seconds.
With its fully independent suspension, Durango delivers a firm, but supple, ride. Steering is on the hefty side, but precise in feel and impressively confident, providing true feedback. If you're towing two tons or more, however, you'll know it.
Excelling in maneuverability and low-speed handling, a Durango is stable and reassuring, whether on city streets or highways. Aside from some side-to-side head tossing in pothole-riddled territory, the ride is well-damped, if somewhat firm. For 2016, a new Sport mode affects steering weighting.