2016 Dodge Viper Summary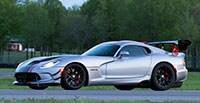 We like the Viper and vote for the SRT, at $87,895. It's the least gentrified and most pure to the original Viper spirit. Now with supercar performance. We don't need no stinkin' Alcantara leather (though we don't mind it).
Driving impressions by Marty Padgett. Sam Moses contributed to this report, with Mitch McCullough reporting from Michigan.