2016 Ford C-Max Introduction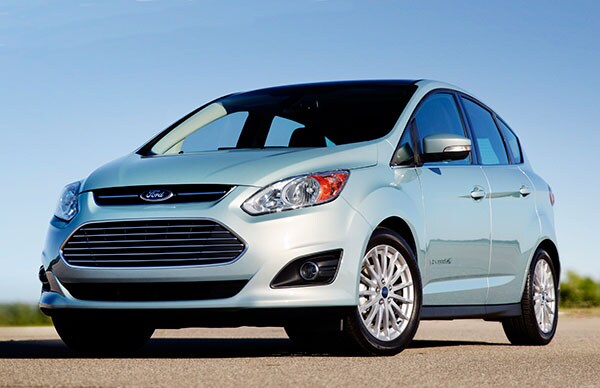 The Ford C-Max is a compact hatchback hybrid, like the Prius liftback or Prius V wagon. The C-Max is built on the Focus platform, and is in the fourth year of its first generation. The only changes for 2016 are new colors and the new Sync 3 voice command replacing the problematic Sync with MyFord Touch.
The base hybrid makes an excellent 195 combined horsepower using a 2.0-liter four-cylinder engine with two electric motors. The plug-in C-Max Energi model uses a 7.6 kilowatt-hour battery, compared to the 1.4 kWh in the standard hybrid, which gives it an all-electric driving range of 19 miles at slow speeds.
The Ford C-Max Hybrid is EPA-rated at 42/37 mpg City/Highway, while the C-Max Energi is rated 38 mpg Combined city and highway, using the 19 miles of electric. The 2015 Prius is rated 51/48 mpg.
The C-Max is less stressed and noisy than the 2015 Prius. An all-new Toyota Prius is being introduced for 2016.
Underway, the Ford C-Max does not feel tight and lithe like the Focus does. The C-Max is heavier, by 650 pounds, and its suspension is less compliant.
The C-Max earns a Top Safety Pick from the Insurance Institute for Highway Safety (IIHS), and four stars from the National Highway Traffic Safety Administration (NHTSA) for frontal crash and roof strength, and five stars for side impact. Rearview camera and seven airbags are standard.