2016 Ford Edge Driving Impressions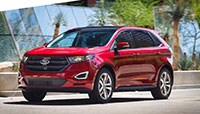 In terms of the driving experience, don't expect much edginess from an Edge. What you do get are precision and responsiveness, with what might be called subdued sharpness.
Though quiet and well-isolated, ride quality is firm. Sport models approach stiff. Even so, excellent body control and impressive road feel are achieved without making the ride excessively harsh.
Handling is in the direction of a premium German vehicle. Steering has a precise, reassuring feel, tracking well on straightaways. Sport models have different dampers and spring rates, plus 21-inch wheels. They also have heftier on-center steering feel. Brakes deliver strong stopping power.
Each powertrain feels different. Drivability of the base 2.0-liter EcoBoost has been improved and turbo lag reduced, making it energetic enough for most drivers. Because it's so smooth, frequent downshifts aren't needed. Engine stop/start technology is available for the EcoSport. Note that running this engine on regular-grade gasoline drops power output significantly.
The Sport model's 2.7-liter twin-turbo V6 delivers vigorous acceleration performance, gurgling and purring like a five-cylinder, while delivering abundant energy, especially at midrange engine speeds. We like its smooth, somewhat muted characteristics.
Ford's 6-speed automatic transmission performs well, with quick, crisp downshifts. Steering-wheel paddle shifters may be used after pulling the shift lever to the sport position.