2016 Ford Escape Driving Impressions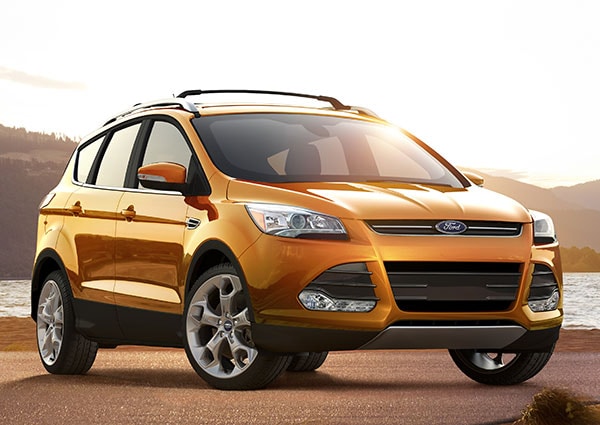 Handling agility is the main attraction of the Ford Escape. It handles like a driver-engaging hatchback that's a bit taller than usual. Order it with the 2.0-liter turbocharged engine, and it accelerates like one. Among the compact crossover-SUV group, the Escape stands alongside Mazda's CX-5 in providing an exhilarating driving experience, even with the base engine.
Smoothly competent, if somewhat tame, the base 2.5-liter engine delivers enough energy to satisfy most owners. Although the midrange 1.6-liter turbo has been the popular favorite, we like the responsiveness of the 240-horsepower, 2.0-liter turbo. Ford's 6-speed automatic functions well with either turbocharged engine. Instead of paddle shifters, you get a rocker switch on the gearshift lever.
Unless you're in the Snow Belt, all-wheel drive may not be necessary; but it can help maintain traction on non-wintry slick pavements. AWD models are heavier, thus consuming more fuel, as well as more costly. When the snow flies, however, an all-wheel-drive Escape fitted with snow tires would be a mighty vehicle.
The Escape benefits from what's called Torque Vectoring, which helps the car run through corners with greater finesse. The system uses antilock braking to restrain an inside front wheel, when slippage is detected. Even without that assistance, the Escape's refined road manners shine brightly.
Crisp, weighty steering and superior body control make the Escape's hatchback profile seem appropriate. Feedback from the road could be better, though that's common in this class.
EPA ratings have the Escape 2.5-liter with front-drive at 22/31 mpg City/Highway. The Escape with the 1.6-liter turbocharged four-cylinder is rated 23/32 mpg, versus 22/30 mpg for the 240-horsepower 2.0-liter EcoBoost turbo. In comparison, a base Honda CR-V is EPA-rated at 23/33 mpg.