2016 Ford Expedition Introduction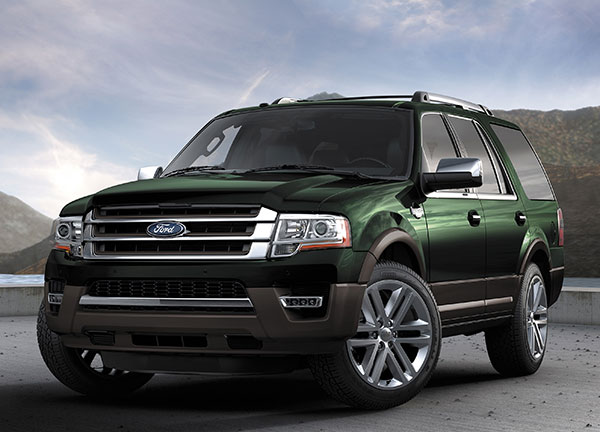 The Ford Expedition is a full-size sport-utility available in two lengths and powered by a twin turbo V6 engine. It's a good choice among SUVs capable of towing a heavier trailer. Tow ratings reach 9,200 pounds on some models.
Expedition was last redesigned for 2008 and revamped for 2015 with mechanical upgrades, including an optional adaptive suspension. Most notably, Ford dismissed the traditional V8 engine in favor of a turbocharged V6.
For 2016, Ford Expedition gets a new SYNC 3 infotainment system. Working through an eight-inch touchscreen, it replaces the MyFord Touch controls.
Expeditions remain available in two lengths: standard and EL (extended-length). Expedition EL rides on a 131-inch wheelbase and is 14.8 inches longer overall than a standard Expedition. The rear fender are is elongated, making access to the third row a lot easier in the EL.
All Expeditions get the same 3.5-liter twin-turbo V6. In addition to generating 365 horsepower and 420 pound-feet of torque, the V6 growls pleasantly. Despite its mass and heft, the Expedition can accelerate quickly.
Expedition is EPA-rated at 16/22 mpg City/Highway, or 15/20 mpg with four-wheel drive. Expedition EL models weigh more and are rated at 15/21 mpg with rear-wheel drive, 14/20 with four-wheel drive.
Piloting an Expedition is pleasant, with surprisingly commendable road manners. At times, it can feel almost like being in a crossover SUV. Expeditions are big, heavy vehicles, however, so maneuverability isn't a strong point, and parking isn't easy, even with the rearview camera. We recommend getting the adaptive suspension.
Ford's adaptive suspension offers three modes: sport, normal, and comfort. However, it's only an option on top models.
The Expedition has earned excellent crash-test scores from the National Highway Traffic Safety Administration: five-star overall, and in separate tests. Rollover resistance is the exception, with only a three-star rating (four-star for 4WD).