2016 Ford Expedition Walk Around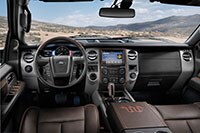 Expedition has an unabashed utilitarian appearance. Because of its steel structure, the Expedition is no longer related to the aluminum F-150 pickup. Even so, with their blunt front end, massive grilles, square angles and numerous straight edges, both clearly belong to the same truck family. At the same time, styling details convey a softer, relatively streamlined theme, such as the wide chrome strip across the rear.
Interior
Interior room nearly matches that of a full-size van. With the third row raised, a standard Expedition has almost 20 cubic feet of cargo space, expanding to 108.3 if second-row seats are down. An EL offers a total of 130.8 cubic feet of cargo space.
Front occupants get comfortable captain's chairs, with power-adjustable pedals. Even smaller drivers shouldn't have trouble finding a good position, helped by a high-mounted seat that provides a fine view ahead.
Leg and knee space in the first and second rows is expansive. Adults can even manage in the third row, at least for short journeys, though arriving there may demand some less-than-graceful maneuvers.
Most models have switched to SYNC 3 infotainment control, with its eight-inch screen on the center stack, trimmed in metal and woodgrain.
Past Expeditions have suffered limited visibility. Now, glass areas are taller, minimizing obstructions.