2016 Ford Explorer Introduction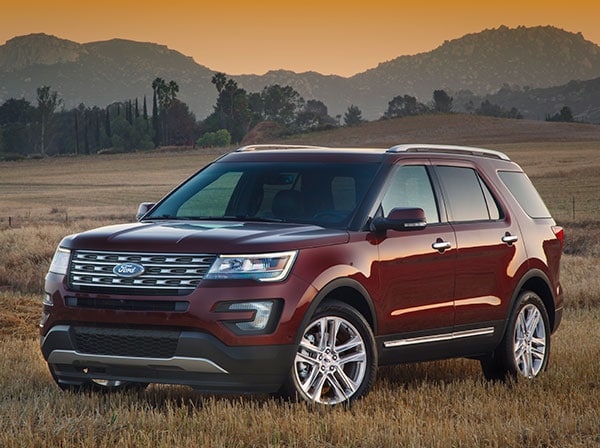 The 2016 Ford Explorer is the 25th anniversary model. How time flies. We remember when the Explorer was a newborn. It was 174 inches long and weighed 3800 pounds. Today it's 24 inches longer and 620 pounds heavier. In the beginning, its V6 had 155 horsepower and got 17 mpg; today it has nearly twice as much horsepower and gets 20 mpg. Then it had a 5-speed manual, now a 6-speed automatic. Then it was rear-wheel drive, now it's front-wheel drive. There's no comparison, safety-wise. Today's Explorer seats seven and can tow 5000 pounds. And believe it or not, the 2016 Explorer is $3500 less expensive in today's dollars.
For its silver anniversary, the 2016 Explorer gets a makeover of its front and rear end, including LED headlamps and taillights; retuned suspension and electric power steering; some new features, and more quiet inside.
The blowout over the years has been in efficient horsepower, with Ford's four- and six-cylinder twin-turbo EcoBoost engines. For 2016 there's a new 2.3-liter EcoBoost four-cylinder that makes 280 horsepower and 310 pound-feet of torque. The base engine is a 3.5-liter V6 making 290 horsepower and 220 pound-feet. There's also a killer EcoBoost twin-turbo V6 that makes a 365 hp and 350 lb-ft.
Today's Explorer handles everything a family can throw at it. It does everything we want a mid-sized crossover to do. It welcomes a lot of people with their stuff, comfortably and efficiently. The base V6 rates an EPA-estimated 17/24/20 mpg City/Highway/Combined; the four-cylinder twin turbo EcoBoost gets 19/28/22, and the 365-hp V6 gets 15/22/18. Notice that's still better fuel mileage than the original 1991 Explorer, while delivering 135 percent more power.
Explorer earns five stars overall in NHTSA crash tests, and a Top Safety Pick from IIHS. It would have gotten an extra +, but it only scored Marginal in the insurance industry's new frontal crash test into a pole.