2016 Ford Explorer Walk Around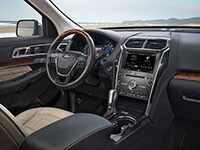 The Explorer's body looks more smoothly finished than ever, with clean edges and an overall soft appearance, even with sharp corners. All the sheetmetal has been changed except for the sides, although the rear pillars are reshaped. The mesh grille is higher and more defined, while the LED headlamps have a chunky look to them. There's a new spoiler at the rear, and exhaust tips integrated into the fascia.
Even two feet longer and way thicker, it's still an Explorer. The tall body, generous glass, ad three-bar grille distinguish it, as much as its outline.
Interior
There are finally real buttons on the instrument panel, replacing some of the problematic MyFord Touch buttons. It's quieter inside thanks to tighter door seals, new engine mounts, and acoustic glass in all models except base.
The Explorer is designed for families, and for passenger space. The first- and second-row seats are among the most comfortable in the class, although the second row is low to the floor; and the third row is usable by adults. The armrests are high and soft. Power-folding seats are available.