2016 Ford F-150 Driving Impressions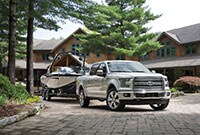 Ride quality and handling prowess haven't changed substantially with the new aluminum body, but the reduced weight clearly helps isolation from the road surface.
F-150 occupants can expect excellent ride comfort and a substantial feel. A 2016 F-150 Platinum model we drove smoothed out bumpy neighborhood roads, delivering a ride that Super Duty owners can only dream about. Electric power steering is quick and light, handily complementing this truck's admirable road manners.
A V6 F-150 is quiet while cruising. One oddity: simulated V8 noise is sent into the cab, to satisfy owners who simply can't bear to be without the sound of eight cylinders.
Despite its traditional separate body, an F-150 exhibits excellent composure. In fact, even though an F-150 looks tough, it's among the best-handling big pickups. Ride control suggests a capable sedan, at least when rolling at moderate speeds. Pushed harder, not quite so much.
The 2.7-liter V6 engine works well with Ford's 6-speed automatic. Acceleration is energetic and smooth, the turbocharger heard faintly under acceleration. Ford's Stop/Start setup is among the best, practically seamless when it's time for the engine to restart. EPA-estimated fuel economy is a comparatively thrifty 19/26 mpg City/Highway (22 mpg Combined) with that engine and two-wheel drive.
Quite a difference from the V8 version, EPA-estimated at only 15/21 mpg.