2016 Ford Fiesta Driving Impressions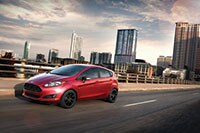 The Fiesta weighs 2600 pounds so it's not quick, but acceleration is okay in the base 1.6-liter with the good five-speed manual transmission, and revs up. Zero to 60 in about 10 seconds. Meanwhile the 6-speed PowerShift automatic is a dual clutch that doesn't do the job. It's lazy on downshifts and clunky on upshifts.
The Fiesta reminds us of the original Mazda Miata, in that the driving dynamics are so good you think it's faster than it really is. What the Fiesta is mostly all about is handling, with excellent steering and suspension tuning. The electric power steering system feeds back the feel of the road precisely, and makes the car responsive and nimble, while being secure for the freeway. The steering has Pull-Drift Compensation to help keep the vehicle going straight on crowned roads or in heavy crosswinds.
The ride finds some suspension flaws, however. The Fiesta can hop on rough surfaces, and it takes a nosedive under quick braking.
The one-liter three-cylinder engine is quicker and more efficient than the base four-cylinder. The tiny turbo has a distinctive exhaust note, a little howl that grows to a thrumming sound as revs increase. You have to shift a lot to run with the fast cars on the highway, as the torque is at a fairly high range, but the very fact that you can run with the fast cars is impressive and praiseworthy.
If you want to run with the really fast cars, there is the Fiesta ST. It's for supercar dreamers with standard salaries. The suspension is lower and stiffer, the steering ratio quicker, brakes better, tires grippier, and there's electronic torque vectoring to keep the maximum 214 foot-pounds of torque at the front wheels under reasonable control. But even at a low 1400 rpm, the engine makes 148 lb-ft, so casual acceleration is good too.