2016 Ford Fiesta Walk Around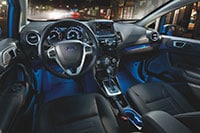 The hatchback is a crisp flowing wedge, and looks way better than the sedan. The wide-mouthed Ford grille makes it look macho. The rear pillar nips and tucks, as the taillights climb to the pillars.
If you don't want anyone to look at you twice, get the sedan that looks tall and narrow. If you want them to stare get the ST, a hot hatch with a low stance, black honeycomb grille and big air dam, and wheels that mean business.
Interior
The first impression of the cabin makes the Fiesta look like a more expensive car, with quality fabric seats and coordinated colors and soft textures, as well as the 6.5-inch touchscreen of Sync 3. But after a while the standard seats feel unsupportive and a little flat, the back seat doesn't fold flat, and there's engine noise in the cabin.
So you climb into an ST, with available Recaro seats and Sound Symposer, piping the engine's intake noise into the cabin, to create a sporty tone.