2016 Ford Flex Driving Impressions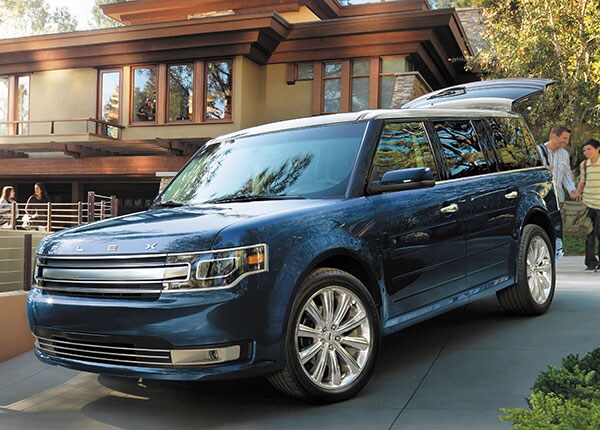 Pleasant to drive, the Flex feels like a step up from a Chevrolet Traverse or Toyota Highlander, due largely to its superior ride. Even the base model comes across like a smaller wagon, helped by relatively crisp steering feel and the long (118-inch) wheelbase. Even when pushed harder than most drivers ever will, body motions are adeptly controlled. Despite its dimensions, the Flex is surprisingly easy to park and maneuver through urban settings, and feels no more ponderous than a midsize sedan.
Both drivetrains deliver plenty of power. Even with several passengers, a base-engine Flex responds strongly to pass. Still, the EcoBoost turbocharged Flex approaches the level of some sport sedans. We prefer EcoBoost, though it does exact a gas-mileage penalty. Specifically, the front-drive base Flex is EPA-rated at 18/25 mpg (City-Highway), versus 17/23 mpg with all-wheel drive. With the EcoBoost turbo, mileage dips to 16/23 mpg. Flex simply isn't as frugal as some newer three-row models.
Ford's 6-speed automatic transmission shifts smoothly. As the transmission upshifts, the EcoBoost edition cranks out torque in a seamless wave. Tapping one of the paddle shifters triggers a manual-control mode. The system considers steering-angle and yaw sensors, as well as throttle position. While climbing a hill or rounding a quick corner, for instance, it will stick in lower gear. Only when pushing excessively hard in such a corner is the otherwise compliant ride likely to become jittery.
All-wheel drive makes sense in the snowbelt region; but otherwise, note that it adds heft to a vehicle that already weighs 4,600 pounds.