2016 Ford Focus Driving Impressions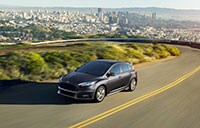 If you're seeking agile handling and crisp steering responses, Focus is the compact to beat. Regardless of trim level, Ford's compact feels nimble and athletic. Naturally, ST and RS versions are the ones that set enthusiast hearts to racing.
Installed in most Focus models, the 2.0-liter engine is sufficiently spirited for nearly every driving need. At low speeds, the optional dual-clutch automatic isn't always smooth, but it keeps engine revs high, ready to be called upon. With this automatic, the 2.0-liter Focus is among the thriftiest in its segment, EPA-rated at 27/40 mpg City/Highway. Manual shift is a bit lower (not as good).
Stepping up to a 240-horsepower Focus ST is the way to get the best handling. The well-engineered ST feels like a performance car, yet it lacks the twitchy behavior that plagues some extra-hot compacts. Premium fuel isn't needed, and the ST is EPA-rated at 23/32 mpg City/Highway.
Beneath the hood of the new Focus RS, an EcoBoost 2.3-liter engine produces more than 300 horsepower. Full-time all-wheel drive incorporates dynamic torque vectoring. Ready to go against the high-performance Subaru WRX and STI, in particular, the Focus RS features a selectable sports suspension and heftier brakes.
At the other end of the spectrum, the high-efficiency Focus SFE gets a 1.0-liter EcoBoost engine that makes 123 horsepower, as well as a heftier 148 pound-feet of torque. The SFE is EPA-rated at 30/42 mpg City/Highway. For 2016, Ford is offering this engine with a 6-speed automatic, which loses 2 mpg compared to manual shift.
Even in basic trim, Focus is among the better-handling cars. Nicely weighted electric power steering ensures precise control, though road feel is somewhat lacking. Despite a rather firm suspension, a Focus won't bang and bounce through harsh surfaces. Unfortunately, the Focus S and SE still halt with slightly less effective rear drum brakes.
Although a Focus rides more firmly than many small cars, passenger comfort excels. Sophisticated suspension tuning smooths out the most irksome bumps and holes. Still, road noise manages to get inside.