2016 Ford Fusion Driving Impressions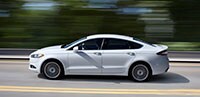 We put the Ford Fusion among the top midsize sedans when it comes to driving satisfaction: ride, handling, steering and cornering. Only the Mazda 6, some versions of the Honda Accord and the latest Chevrolet Malibu feel as good as the Fusion.
The Fusion is nimble and eager, even with all-wheel-drive. The ride is firm and composed, handling taut and absorbent, and cornering firm and flat. Wheel and tire choice will affect this somewhat.
Both turbo engines bring responsive acceleration with respectable fuel economy. The base engine is one the weaker side, however, with 178 horsepower and torque that peaks at a high 4500 rpm, so there's less oomph and the automatic transmission kicks down a lot.
We like the 2.0-liter EcoBoost turbo four, with its 240 hp and 270 lb-ft. It revs quickly, and the paddle-shifting automatic is responsive. It's also quiet and free of vibration.
The 1.5-liter turbo four with 181 horsepower is a good compromise of performance, fuel mileage, and price. It comes with a manual gearbox for fun.
With front struts and rear multi-link suspension, the Fusion is first of all a family sedan, so there's compliance in the ride, more than some but not as much as the Nissan Altima. The steering is consistent when turning, although it could be quicker, and the feedback goes away when counter-steering. It's still quite sporty for a midsize sedan.