2016 Ford Mustang Introduction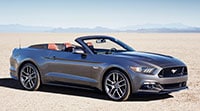 The 2016 Mustang is in the second year of its sixth generation. It was a smash re-make for 2015, with a detailed exterior and interior, and excellent technology including leaps in electronic controls for steering, throttle, transmission, and stability. As well as safety, as winning five stars in all tests by the NHTSA, and Good ratings from the IIHS.
The Mustang comes in coupe and convertible versions.
The redesign brought the EcoBoost twin-turbo four-cylinder engine into the lineup, and now the iconic Shelby GT350, with a high-revving 5.2-liter 500-horsepower V8, available with a Torsen limited-slip differential, big wheels with Brembo brakes, and aero mods. It boasts the debut of Ford's MagneRide magnetic suspension. Now the Mustang Convertible is also available with that Performance Package.
For the most part, 2016 changes are all in available razzle-dazzle: new wheels and hood striping, a black roof, and new packages: California Special Package, Pony Package, and Black Accent Package.
A 6-speed manual transmission is standard, with paddle-shifting 6-speed automatic optional.
The standard V6 with automatic is EPA-rated at 22 mpg Combined city and highway. The EcoBoost four-cylinder is rated 26 mpg Combined; and the 5.0-liter V8 at 19 mpg. The Shelby GT350 isn't rated, but who cares?
Ford's new Sync 3 infotainment comes in 2016. It basically rewrites the previous Ford system, a good thing we think.