2016 Ford Taurus Driving Impressions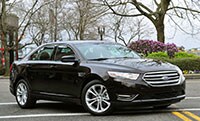 For its age, the Taurus behaves well. Despite impressive road manners, however, a Taurus can feel big and heavy, thus less engaging than some lighter sedans. Road feel falls somewhat short, due to that excess heft.
Because of recent ride/handling improvements, the suspension is more progressive, with less harshness over bumps. A Taurus rides more firmly than other big, comfortable sedans, remaining smooth even though the body can lean significantly when cornering. Taurus tires grip the pavement effectively, but optional 20-inch wheels yield a harsher ride without discernible benefits. Electric power steering is precise, providing more direct feedback than many rivals. Brakes feel confident. Optional automatic Park Assist works better than the system Lexus offers.
The four-cylinder EcoBoost engine is a bit short of power with a passenger or two aboard. Acceleration is better with the V6, though it's not the most refined engine. Helped by a low first gear, the V6 conveys a powerful feel at low to medium engine speeds. Paddle shifters, standard on SEL and Limited, seem unnecessary.
In the SHO, the engine and transmission cooperate to keep power delivery while upshifting. Acceleration to 60 mph takes a little more than 5 seconds. The SHO suspension uses stiffer shock absorbers and springs, plus thicker anti-roll bars, resulting in pleasant balance and crisp.