2016 GMC Sierra Introduction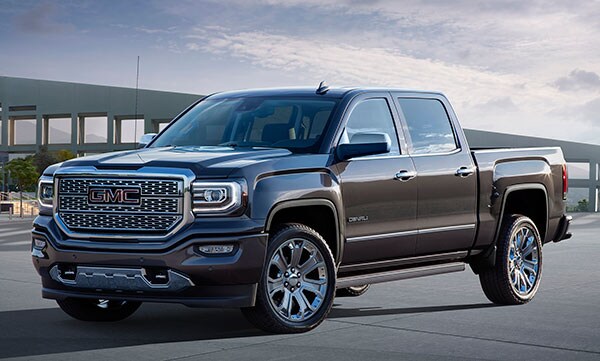 The GMC Sierra 1500 line of full-size pickups has been updated for 2016 with the latest technology and revised styling. Distinctive grilles and other visual cues better distinguish the 2016 Sierra models and trim levels from one another.
The GMC Sierra and Chevrolet Silverado share chassis and most mechanicals, and much of what can be said about Sierra can be said of Silverado.
Ruggedly handsome, like a cowboy dressed for the big city, the GMC Sierra looks more conservative and slightly more upscale than does the Chevy Silverado. Sierra Denali models offer real-time damping, a 6.2-liter V6, and an 8-speed automatic.
Among the changes for 2016: revised styling in front, new grille designs, new headlights, LED foglights, new wheel designs. GM's 8-speed automatic is available with the 5.3-liter V8. GMC IntelliLink has been updated with new screens, faster processors, and Apple CarPlay and Android Auto capability. Wireless phone charging is available. A remote locking tailgate is available, as are power-articulating assist steps.
This third-generation Sierra was introduced as a 2014 model.
Getting in and out of a Sierra (or Silverado) somehow seems easier than with some of the other pickups, and loading equipment or sacks of feed in back seems to require a little less heave-ho. The Sierra rides easier and feels more carlike than do most of the others, though Ram rides very well, also.
The GMC Sierra is a comfortable truck. The dash is upright and formal, trimmed with soft-touch material and fitted with buttons and knobs that are easy to operate.
While other manufacturers downsized engines and used turbochargers and lightweight aluminum construction to gain fuel efficiency, GM stuck with larger displacement engines that use direct injection, continuously variable valves, and cylinder deactivation to achieve those goals. A choice of engines is available.
The 4.3-liter V6 is suitable for trucks mostly used for hauling and light towing. The 5.3-liter V8 is rated to tow trailers weighing 11,000 pounds. The 6.2-liter offers more torque and more towing power. Owners who regularly tow trailers weighing more than 10,000 pounds might want to consider a Sierra HD model, however, because stability and braking performance rather than power is often the limiting factor.
The V6 and 5.3-liter V8 come standard with a 6-speed automatic. An 8-speed automatic comes with Sierra Denali, Sierra SLT, and any with the 6.2-liter engine. Four-wheel drive is available.