2016 GMC Terrain Introduction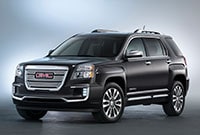 The GMC Terrain is considered a compact crossover, but it doesn't look or feel very compact. And it gets fuel mileage rivaling that of a compact car when equipped with the standard four-cylinder engine. An optional V6 brings brisk acceleration. Its blocky styling has hints of Hummer, and cabin space strives to be Yukon.
Terrain is in the same class as the Honda CR-V, Toyota RAV4, and the related Chevrolet Equinox.
For 2016, GMC Terrain gets a full update, its first since it was launched as a 2010. Nothing mechanical, just revisions to the exterior (grille, hood, front and rear fascia), interior, and new features such as LED daytime running lights.
The standard engine is a 2.4-liter four-cylinder with direct injection making 180 horsepower and an EPA-estimated 22/32 mpg City/Highway with front-wheel drive, 1 mpg less with all-wheel drive. But there's an available 3.6-liter V6 that makes a whopping 301 horsepower, at the price of 5 city and 8 highway mpg, with its 17/24 mpg score. Both engines use a six-speed automatic transmission. The four-cylinder gets big 18-inch wheels, the V6 gets 19-inch whoppers.
The good news is that you can get the four-cylinder engine even with the upscale Denali model. Not many manufacturers combine their most economical powertrain with their most luxurious trim, but it's something smart shoppers often want. Some folks don't see the need for all that power.
Safety ratings are good, with four stars from NHTSA and Top Safety Pick from IIHS. Curtain airbags and rearview camera are standard, on a long list with all the basic quality features, from power driver seat to USB port. Options (or standard on higher trim levels) include leather, wood trim, remote start, automatic climate control, Pioneer sound system, heated front seats, sunroof, IntelliLink infotainment with Bluetooth, headrest-mounted DVD system and a boatload of debatable driver warning systems with enough beepers to distract you. There's enough available equipment to jack the price of your Terrain to more than $40k, from a base price of barely over $24k.
An Eco mode improves fuel mileage with the press of a button, by turning back the AC and slowing down the transmission and throttle response.